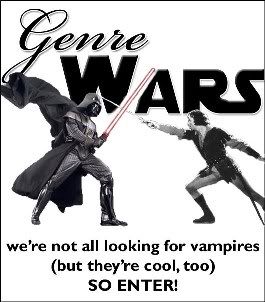 From The Literary Lab, a trio of bloggers that "share a love for literary fiction, an art form that has sadly become associated with stuffy and inaccessible writing" and believe "the best popular fiction can also be the best literary fiction," comes the 2009 Genre Wars Fiction Writing Contest. Details:


We invite fiction writers to submit your 1 to 2,000-word short stories to us. The contest deadline is December 1, 2009 at 11:59 p.m. PST, and we plan to announce the winners on January 7, 2010, which marks the Literary Lab's 1st anniversary. Multiple submissions allowed.

With Genre Wars, we want to celebrate all genres of writing. So, whether you write science-fiction/fantasy, horror/crime, literary, romance/women's fiction, children's literature/middle grade/young adult, or experimental, send in your work!
Read
the guidelines in their entirety
. Even a genre advocate such as myself must admit that literary fiction lovers who concoct a contest button sporting Darth Vader and Inigo Montoya dueling must not be all bad. I'm starting my entry tonight. How about the rest of you?
Edit: I have been informed that the gentleman on the right in the above graphic is actually Errol Flynn, not Inigo Montoya. Alas, that tinkling sound you hear is my genre credibility shattering into a million pieces. Pardon me while I go get a broom and dustpan.
(Picture: Copyright 2009 by The Literary Lab; used by permission; Hat Tip: Nathan Bransford - Literary Agent
,
B. Nagel
)